As part of the ongoing transition from the Dynamics 365 legacy web client to the modern Unified Interface, support for Automatic Case Creation rules and SLA items in the web client will be removed on October 1st, 2021.
Why the need for change?
Although the Unified Interface is now the default interface for most Dynamics 365 actions, there are still some legacy processes that have yet to be migrated, primarily due to their complexity. As more functionality is moved to the Unified Interface, day-to-day management of Dynamics 365 will be quicker and more efficient and support for the legacy web client can be refocused on the modern Unified Interface instead.
What do I need to do to prepare for the removal?
Fortunately, Microsoft have provided a migration tool that will quickly and easily migrate your existing Automatic Case Creation rules and SLA items from the deprecated web client format to the Unified Interface. The tool allows you to select which rules and items to migrate, monitor their progress and review any failures. It is important that this process is carried out well in advance of the October 1st deadline so that any potential issues can be resolved in good time.
The tool can be accessed via the Customer Service Hub app, navigating to the Service Management area and clicking the ARC & SLA Migration tool link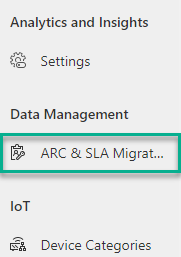 Microsoft have also provided a detailed guide on the migration steps to follow, which can be accessed here. The steps will need to be completed by an Administrator.
Are there any other upcoming Customer Service deprecations I should be aware of?
Yes. As detailed in a Microsoft article here, there are several other upcoming deprecations dates:
August, 2021 – Internet Explorer 11 support for Dynamics 365 and Microsoft Power Platform
December, 2021 – Service Scheduling
December 8th, 2021 – Customer Service Insights standalone app
April 1st, 2022 – Contracts, Contract Line Items, and Contract Templates entities
Date currently unannounced – Standard SLAs
If you are an existing Strategy 365 client and need support with the above migration steps, get in touch with one of our experts who will guide you through the process.
Please see our
Privacy Policy
and
Data Protection Policy
for information on how we use your data